What is a journalist?
March 1, 2020

Posted by:

ishapiro

Category:

News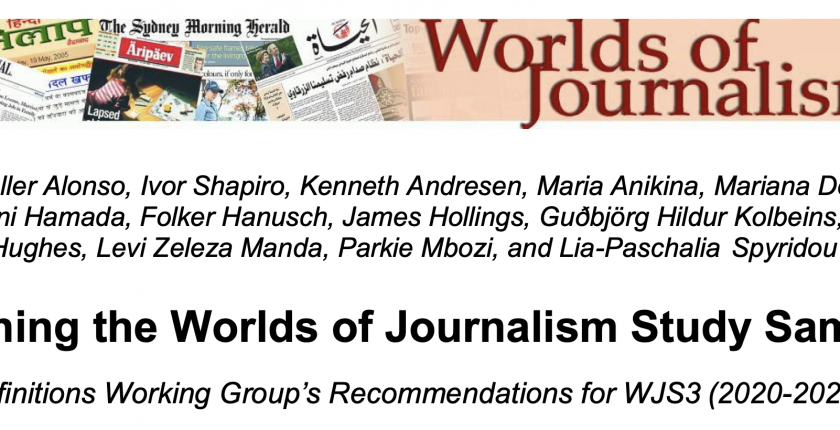 CWJS investigator Ivor Shapiro played a leading role in helping the global Worlds of Journalism Study team determine whom to include under the category of "journalist" in the recently launched third wave of the international project. For the first time, sampling for the project will take in two categories: "professional journalists," and "peripheral journalists." A "journalist" is defined as:
Someone who regularly seeks, describes, analyzes, interprets, contextualizes, edits, produces, presents or portrays intentionally accurate information about current affairs (news), in any text, sound and/or or visual form or medium , as part of a process of providing or interpreting this information to a more generalized group of people than those previously familiar with it, and without expectation of deriving personal benefit from the consequences of this information being made available. The journalist's work may or may not specialize in any particular subject matter or "beat" (e.g. politics, culture, business, crime, sports, lifestyle). The journalist may be employed by one or more news outlets, and/or may be self- employed ("freelance").
CWJS investigator Ivor Shapiro co-chaired the working group that defined "Journalist" plus  the following other terms that will be applied in sampling for the global study:
Professional Journalist
Peripheral Journalist
News Organization
Media Platform
Media Range
Media Property
Social Media. 
The group recommended that the Study avoid "inherently ambiguous" terms such as citizen (or amateur) journalist, mainstream journalist/media, and alternative media.
All the definitions, and their shared theoretical rationale, are now published in a working paper whose conclusions have been adopted into the global study's Field Manual.
Author: ishapiro